Live Craps & Dice
Welcome to our world-class Live Craps and our other exciting live dice games. If the roll or shake of the dice is what makes a game exciting and fun for you, or if you just fancy a change from the Roulette wheel or card games, we've got just the dice game for you!
Live Craps online – come on, let's roll!
Evolution live Craps is the authentic, exciting, unique online version of Craps.
Anyone who has experienced Craps live – especially in a land-based casino in the USA where the game has achieved legendary status – will know that there is no more exhilarating live game to play or watch.
Our live Craps matches that suspense and excitement with every dice roll. This is live Craps with every authentic game details for die-hard Craps enthusiasts. At the same time, new players can quickly learn to play craps live too, thanks to the optional 'Easy Mode' and built-in interactive tutorial.
Other great dice games, too
If dice games are your thing, then you've just rolled a double-six! Because alongside live Craps, we have plenty more dice-based live games you're sure to enjoy.
Bac Bo is our unique mix of Baccarat and dice, while Super Sic Bo is the classic Sic Bo dice game re-imagined for the digital age. Then there's Football Studio Dice, a unique blend of football (soccer, that is) chat show and live casino dice game. And don't forget Fan Tan, an ancient Asian bead game and a likely forerunner of the very first dice games.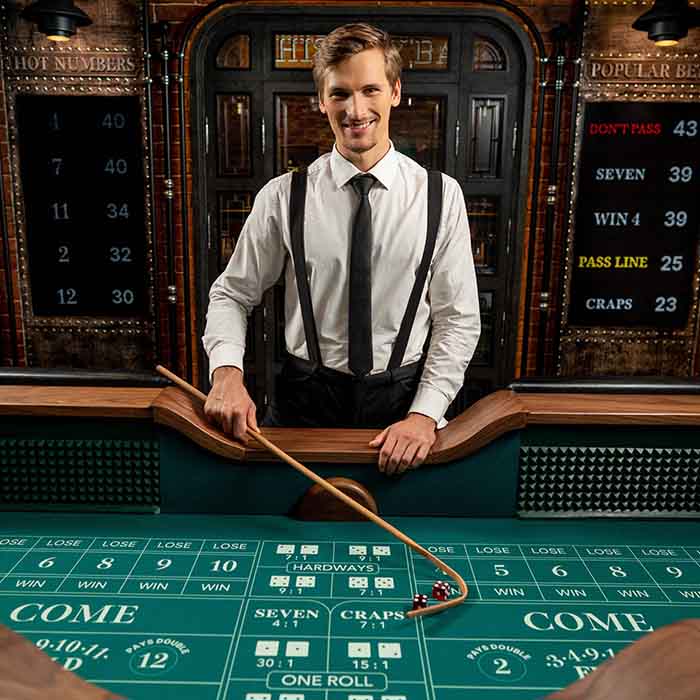 Live Craps
Our unique live Craps, set in a beautiful, atmospheric underground Speakeasy is a dynamic and fast-paced live game with many ways to bet.
The aim of the game is to predict the outcome of the roll of two dice by choosing the right bet or mix of bets. Our version preserves the excitement of a real live game with features that will impress Craps devotees but with easy-play options that will appeal to new players.
Craps is quite a simple game that progresses through two stages – the Come Out roll, followed by the Point roll. Some Craps bets are resolved after one roll while other bets can last several rolls before they are resolved, which makes the game more entertaining.
In this online Live Craps from Evolution, you are constantly updated with your potential winnings for the next throw of the dice. At the same time, you can see how many of you and your fellow players are rooting for the same number.
For Craps beginners or improvers there's also an easy-to-access, built-in interactive tutorial. There's even an 'Easy Mode' option in the user interface which selects a version of the game that includes only the easier-to-understand Craps bets.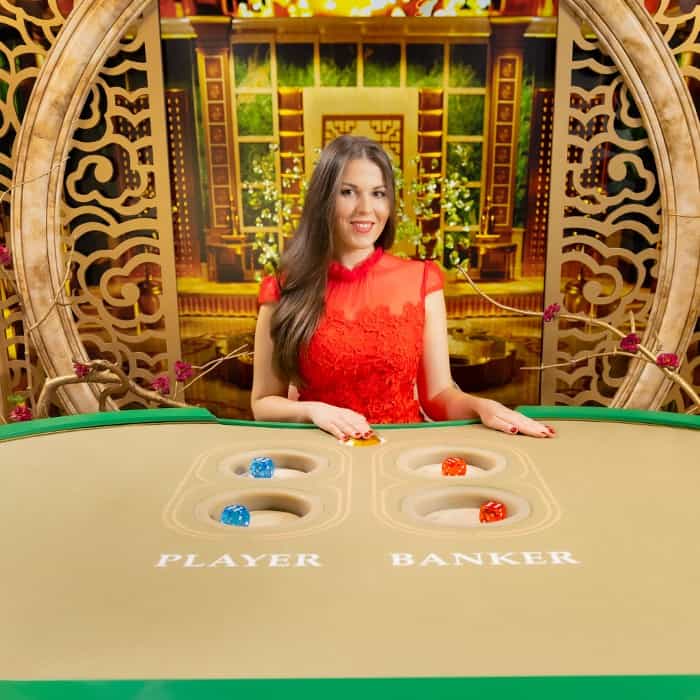 Bac Bo
Created for players looking for a smooth-flowing live dealer game that offers endless excitement, Bac Bo is a unique, all-new dice game with many similarities to the classic Baccarat card game. In fact, we often refer to Bac Bo as 'Dice-Baccarat'.
Instead of using cards, in Bac Bo both the Player's and Banker's score is made up of the sum of two dice, automatically shaken in four individual shakers, two for each hand.
Banker and Player both roll their pair of dice, and the resulting two numbers are added together. The highest two-dice total wins and, of course, there is always the chance of a 'come from behind' win.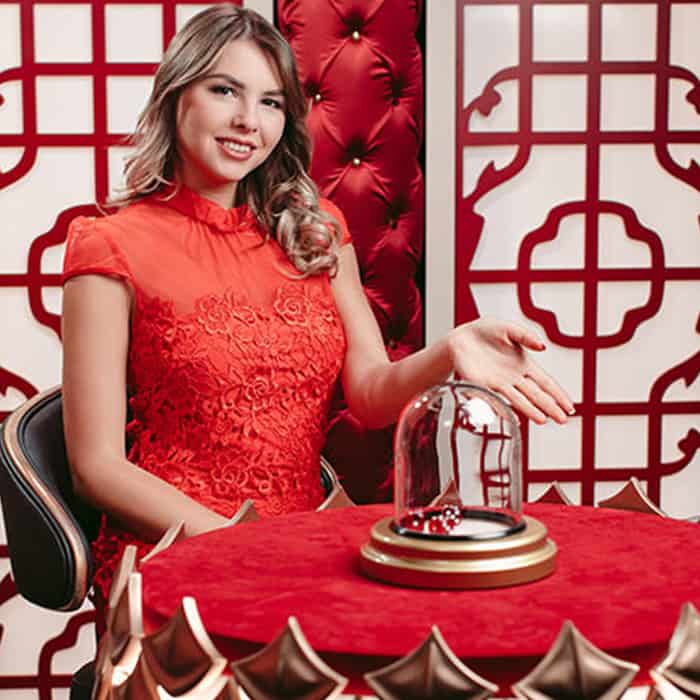 Super Sic Bo
Our Super Sic Bo is the classic, simple dice game that we've re-invented and made super exciting by adding random multipliers of up to 1000x in every game round!
Extremely easy to play, Evolution Super Sic Bo is a super-engaging edition of the ancient dice game, live and online, with a professional live dealer. Just as in classic Sic Bo, you predict the outcome of the shake of three standard dice. It's a simple concept, but the number of bet types that can be made is surprisingly large.
Added to this is the potential for multipliers to hit in any round. If your bet is placed on a bet spot with a selected multiplier, the payout is multiplied accordingly if your bet wins!
Football Studio Dice
The first ever dice football game, Football Studio Dice, is a unique and entertaining football-themed game show for players who get a kick out of 'the beautiful game'.
Similar to our unique Bac Bo dice game with Tie bet payouts of up to 80x, Football Studio Dice is a fast and simple dice game in which you can back the HOME or AWAY side and also engage with our game hosts in football-related chat.
HOME and AWAY scores are made up of the sum of two dice, automatically shaken in four individual shakers, two for each side. The highest two-dice total wins. But, just like a real football match, it's a game of two halves. Even if you lose the 'First Half' dice shake, there's always the chance to come from behind in the 'Second Half' dice shake.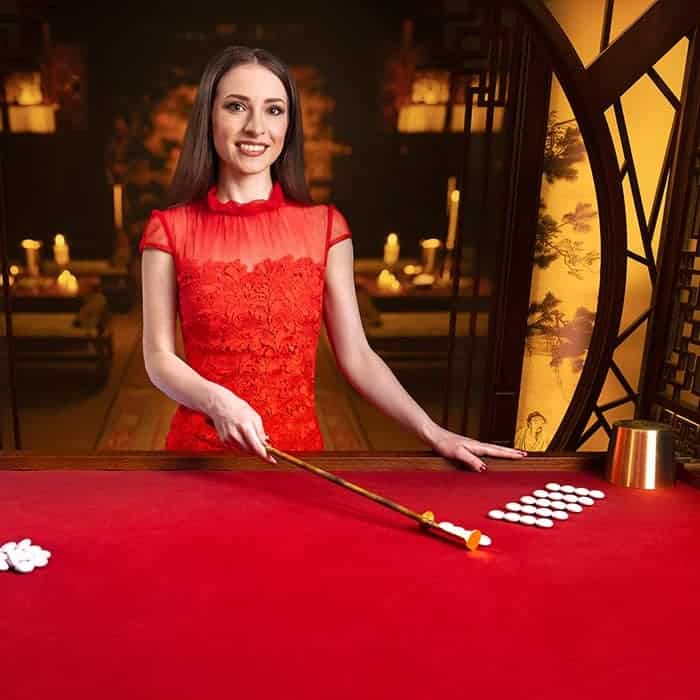 Fan Tan
Fan Tan is not strictly a dice game. However, it's easy to see how this ancient Asian bead game, with its final winning number derived from the random selection and careful ordering of beads into lines, could have inspired the first dice games.
Before being played with beads, it's thought that Fan Tan was played with any other small objects that came easily to hand, such as beans or small stones.
Today's Fan Tan from Evolution is a stunning and beautiful live game that's easy to understand and play online. But beyond the simplicity, there's a rich array of additional bets and live betting statistics that make it extra exciting and fascinating.
Just as Fan Tan players have done for centuries, you are betting on the number of beads that will remain in the final line of beads at the end of each game round. Will it be 1, 2, 3 or 4 beads?
More dice action in our MONOPOLY Live and MONOPOLY Big Baller online game shows
As you might expect in live game shows based on one of the world's best-loved board games, dice rolls also feature prominently in the bonus games of both MONOPOLY Live and MONOPOLY Big Baller.
Find out more about playing live MONOPOLY as a game show contestant online.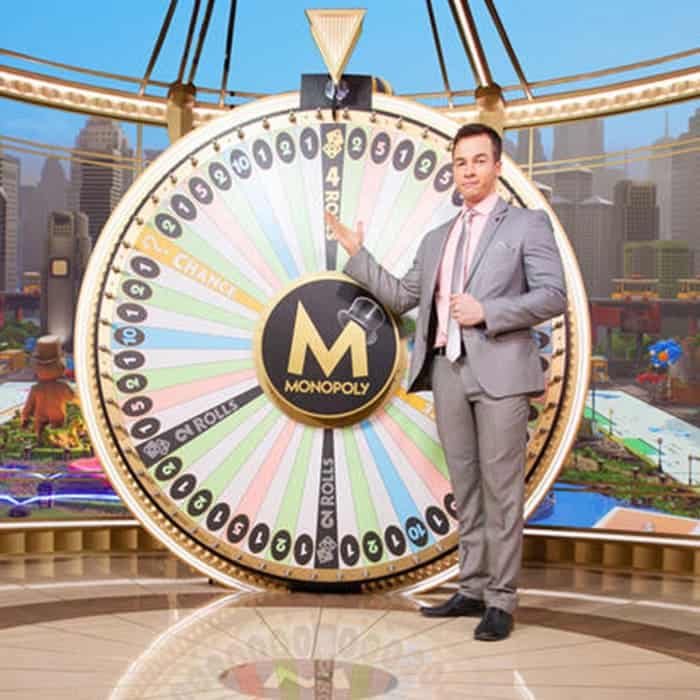 MONOPOLY Live
MONOPOLY Live is a unique live online variant of the hugely popular MONOPOLY board game. A live game host spins the super-sized wheel and you predict which segment the wheel will stop at.
There are 'CHANCE' segments for instant cash wins and multipliers, and also '2 ROLLS' and '4 ROLLS' segments, which trigger the roll of the dice. These dice rolls activate a virtual MR. MONOPOLY who springs into action in the bonus round, stepping around the 3D MONOPOLY board collecting prizes and multipliers just for you!
MONOPOLY TM, ® & © 1935, 2023 Hasbro.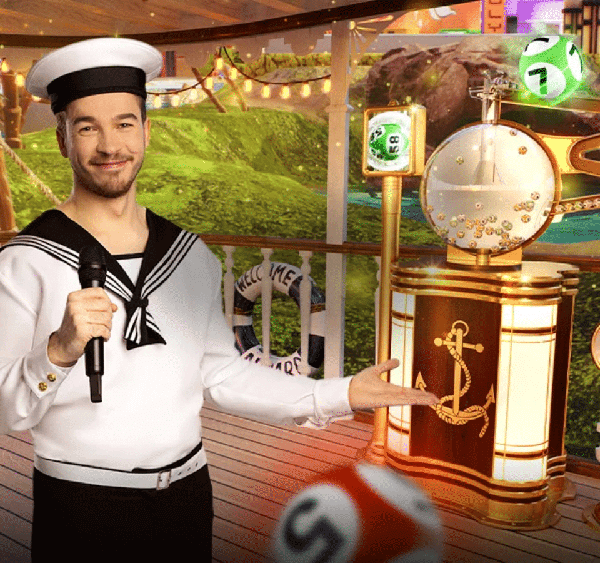 MONOPOLY Big Baller
MONOPOLY Big Baller is a unique bingo-style live game show based on the world-famous board game.
Numbered balls, bingo-style cards, a live game presenter, lots of fun and thrills, and amazing augmented reality animation all come together in this unique MONOPOLY-themed live game show set on a riverboat cruise!
The game also offers various types of multipliers which you may receive if a line is formed. For full-on MONOPOLY fun, you can take part in the Bonus Game by placing a bet on '3 Rolls' or '5 Rolls'.
As in MONOPOLY Live, this leads to the dice rolls and MR. MONOPOLY himself walks around the virtual 3D MONOPOLY board collects multipliers for you!
MONOPOLY TM, ® & © 1935, 2023 Hasbro.
Online casino table games FAQ
Online table games are very varied and have the lowest house edge to boot. Players can develop a complex winning strategy, unlike slots, where they typically only have to wait for the free spins winnings.
Depending on the gambling website, players can receive deposit bonuses. When wagering the bonus funds, we recommend you pay attention to the game weighting. Although the bonus funds can be valid for table games, these funds might not count towards wagering requirements.